Play Now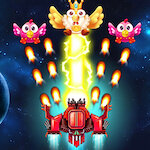 In Chicken Invaders, get ready for a heated battle in the vacuum of space against the feathered foes! We thought chickens were harmless and innocent animals, but who would've thought they were planning world domination? Wear your spacesuit, jump into your spaceship, and get ready to roast some chickens with your lasers. Through multiple challenging levels, can you stop these invaders once and for all?
These birds can't even fly, but they've managed to plan an attack right under our noses! Time to defend our planet from these clucking aliens! The game features 2 different game modes that you can select from the main menu. The first one is the adventure mode, in which your objective is to complete each level by surviving through the attacks of the enemy waves. Each level gets progressively challenging with the increased number of waves and the introduction of more powerful enemies. When you hit the 5th level, you'll unlock the endless mode. Your objective in this is to survive as long as you can. You can collect different power-ups to have more effective attacks. To move your spaceship, click and drag it around the screen. Try not to get killed. When that happens, you'll restart the level. Good luck!
If you like playing with lasers and travel in the space, then you should also check our other fun title Galactic Judge, by clicking here. Have fun playing!
Developer
InterAction Studios developed this game.
Release Date
December 14, 2018
Features
2D graphics
Easy controls
Lots of levels
Entertaining gameplay
Controls
Hold down your left mouse button and move your cursor around to move your spaceship around.