Critical Combat Battle Royale
Play Now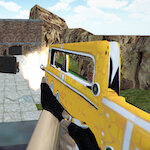 In Critical Combat Battle Royale, you better take up arms, because your opponents will have no mercy. Featuring the key elements of competitive online multiplayer games, you're always in danger in this game. So you better check your surroundings, and never hesitate to pull the trigger.
To survive, you should defeat others. First, start the game by clicking on the play button on the main menu. Next, you can click on the second play button in the bottom right corner. This will take you to room selection. This game has 2 different game modes that you can try. Each mode has its own objective. In the TDM, every player is separated into 2 different teams, and your objective in this game is to kill all the members of the enemy team before they kill you. The second mode is the normal mode. In this one, you try to earn more kills than the opponent team before you run out of time. Once you see an enemy, you should be careful. Take cover and try to get an opportunity to shoot them. Your teammates will help you, so stick together. Collect different crates to get new and more powerful weapons. Good luck and have fun!
Be sure to try our other popular multiplayer online game PUBG Pixel 3 by clicking here. Enjoy!
Developer
Anrgy Gamez developed Critical Combat Battle Royale.
Features
Colorful 3D graphics
Competitive online multiplayer gameplay
2 different game modes to try
Different weapons to use
Controls
Use the WASD keys to move around. Use your mouse to aim and shoot. Press the SPACE BAR to jump.