Play Now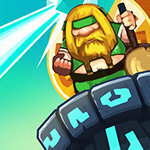 In Defend Home, your enemies are at the gates, and you should be prepared to face them. Get ready for the battle, and show those monsters that you'll not allow them to roam free in your lands. Can you stop all of them before they reach your town?
Trolls, orcs, and other dangerous monsters have started their march towards your city. You should stop them before it's too late. Your objective in this game is to stop the waves of enemies reaching your base. These creatures are tough and don't look like they'll give up. But the only thing you need to gather an army is your mouse. When you start the game, you can place units to the slots by clicking on the yellow button at the bottom center of the screen. As you kill enemies, you earn coins and experience points. Leveling up unlocks different types of units that are more effective. You can also use 2 different powers to get rid of a group of enemies fast. You can select them from the buttons located in the bottom left corner of the screen. After you destroy enemy waves, you'll have to fight against a boss. Good luck!
Do you like this game? Then go ahead and try our other popular title, Giant Tower Defense. Enjoy!
Developer
Yizhiyuan Network Technology Co., Ltd. developed Defend Home.
Release Date
December 16, 2019
Features
Colorful 2D graphics
Intuitive controls
Entertaining and addictive
Different units to use against your enemies
Can upgrade your soldiers
Controls
You can use your mouse to play this game.