Play Now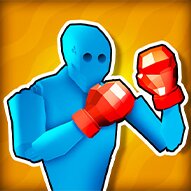 Get ready to be annoyed by the chaos drinking causes with Drunken Boxing: Ultimate! Street fights are an issue, but when it meets alcohol, that's when the real mess starts. Kicks are not an option, and the fists can hardly reach their destinations. That's okay; at least the crowd seems to enjoy it!
Get the rage mode on and listen to people screaming your name. Well, not your real name, but something like Red Guy or just Blue. Add these cheers at the top of your drunken courage and lift your right arm. That's your left, but that should do too. Now focus on the guy and forget about his twin that your brain is creating. Make fists with your hands, or at least keep your fingers together so as not to break them. Keep your stamina high; you get stunned if you try to use all your energy at once. Let your enemy empty his stamina bar and start throwing fists to move him away. Then take a few steps back and use your special puke attack! You can fight against the game or invite your friends to paint them in muddy green!
If you like drunken fights, you can check out Drunken Boxing 2 and keep the booze in your veins in charge of your arms!
Developer
RHM Interactive developed Drunken Boxing: Ultimate.
Release Date
April 6, 2022
Features
Vivid 3D graphics
Single-player and multiplayer options
Realistic and funny atmosphere
Adjustable fighting options
Controls
Player one can use "W, S" to move, "A, D" to punch, and "G" for the special attack, while player two can use the up and down arrow keys to move, left and right arrow keys to punch, and "L" for the special attack.