Play Now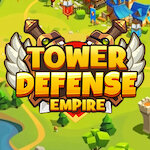 In Empire Tower Defense, the war is at your doorstep. The undead have arisen and there are too many empty graves around. It's time to fill them up again. Can you send them back to their graves and defend your kingdom?
A war has erupted between the dead and your kingdom. With your country at stake, you must step up to be your people's hero. Purge this land of the dead and let death devastate your enemies. Your objective is to defend the city walls by shooting arrows at your foes. Scatter them before they reach the city walls. You can see the health bar in the top right corner of the screen. If they manage to reach the gates and the walls crumble into dust, nothing will remain of your country. Click on your enemies to shoot and try to be quick because they're coming in great numbers. There are a lot of castles to defend in your kingdom. Start from one of them and cleanse your land. As the game progresses, you'll face foes that are harder to kill. You can upgrade your weapon by clicking the button at the top of the screen. You can also buy new archers to destroy the dead. If the battle goes ill, you can always buy skills such as lighting and ice magic. Stand your ground, archer, and let your enemies taste your arrows.
Another day, another war... Play Tower Defense Alien War now and defeat the alien waves that are attacking your land!
Release Date
October, 2018.
Features
Different levels to complete
Different skills to buy
Weapons to upgrade
Fun gameplay
Controls
You can play the game with your mouse.