Roller Ball 6 : Bounce Ball 6
Play Now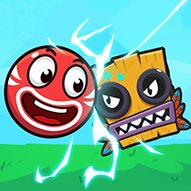 Go on an adventure with a bouncy red ball of cuteness with Roller Ball 6: Bounce Ball 6. Jump through spaces and cliffs, collects gold, reach portals! Avoid enemy totems and jump on them to reach your goal! Don't let the square-earthers change the shape of the planet and save the world!
You can move right and left and jump; these are pretty much all the controls you can use to rule the world you are in. The journey starts relatively easy; you just move forward collecting coins. After a few levels, you will start facing the real enemy; totem minions! Jump on them to earn some extra gold. Move objects and change the platform to make things a little easier. Grab boosts that give you a magnet effect against coins. Jump on boats, structures, and planks on the sea, and feel their satisfying sinking effect. Use mushrooms to jump higher. You can save your kidnapped friends along the way. Collect keys and open surprise chests between levels. These chests earn you gold you can use in the game's shop which contains skins for your ball. Some of them can be unlocked via gold, some require you to watch ads, and the rest can be earned as daily rewards. Unlock all of them to save the world as different characters!
If you like this little adventure, you can also check out Crazy Ball and run against new difficulties!
Developer
Bin Studio developed Roller Ball 6: Bounce Ball 6.
Release Date
February 24, 2022
Features
Colorful 2D graphics
Easy to play
100 levels of increasing challenge
Available on mobile devices
Controls
You can use arrow keys to control the ball.