Play Now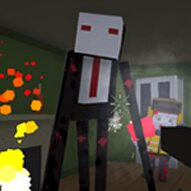 Dive into the frightening and dangerous world of Mineworld Horror! Dangerous zombies, Slenderman, Enderman, and the spooky old house… These are enough to make you want to run away from this scary place. But to run away, you need to first protect yourself and stay alive. Can you survive in this spooky place?
You find yourself in the middle of a deserted house full of zombies and broken objects. Evidently, your main goal is to stay alive and escape the place. But in this game, you have two different modes that you can play. In the escape mode, you are expected to find three items to go out. In this mode, you have three different levels of difficulty. You only have Enderman as an enemy, and you will have a weapon to find and use in the easy mode. In the normal mode, Enderman and zombies will attack you. But you won't have any weapons. In the hard mode, you will have to run away from Enderman and Slenderman, again without a weapon. You may choose to play in the shooter mode, too. You can choose to play in the shoot and escape mode, where you will try to find three objects to run away from while killing your enemies. Also, you may choose to play in survival mode and freely kill your enemies by staying alive as long as you can. This spooky game will give you chills and take you to the edge of your seat in any mode! So, are you ready to dive into this world?
If you enjoyed playing Mineworld Horror, you should check out playing Real Minecraft here.
Developer
kiz10.com developed Mineworld Horror.
Release Date
August 05, 2021
Features
Minecraft graphics
Multiple modes
Intuitive controls
Scary and spooky atmosphere
Controls
You can use the WASD keys to move, your cursor to see around, the F key to grab the objects, and the left click of your mouse to shoot.