Play Now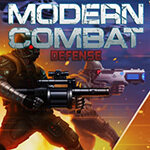 In Modern Combat Defense, arm your weapons and keep your eyes on the horizon. With so many enemies looking to kill you, prepare to have unwelcome guests. You're one of the most skilled soldiers out there, and your job is to defeat all the bad guys. Do you have what it takes to survive through the waves of enemies?
When bad guys appear, there must be someone to stop them. In this game, that someone is you. Your objective is to complete each level by killing all your enemies without dying. You can play the game with your mouse so click on the screen to start. Your character is located on the left side of the screen behind a barrier. Your enemies will enter the area from the right side. Use your mouse to move your character by clicking and dragging him up and down. After shooting enemies a couple of times, they'll die and drop coins. Click on these to collect them as you can use these to buy upgrades for yourself and your gun from the in-game shop. At the top of the screen, you can see your health bar and special attack counter. When enemies hit your barrier, you start to lose health. If you're overwhelmed by the numbers of your opponents, use the special attack button to make rockets rain down from the sky on their heads! Good luck!
Action never stops at Yepi! Go and play our other popular and challenging game Stickman Maverick, by clicking here. Enjoy!
Developer
Kiz10 developed Modern Combat Defense.
Release Date
April 11, 2018
Features
Colorful 2D graphics
9 different upgrades to buy from the in-game shop
Intuitive controls
Multiple levels to complete
Entertaining gameplay
Controls
You can use your mouse to play this game.