Monster School Challenge 2
Play Now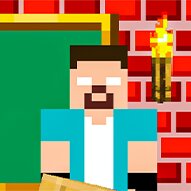 Try to be the best student in the class in Monster School Challenge 2! This school is not like one that you are familiar with. Here you have to prove your monster skills to pass the class. Are you ready to prove yourself with hard work?
In this adventure game with three mini-games, you will have the chance to try yourself through these games with multiple characters. It is a chance that you are in a class full of bright young monsters, and you get to play as each one of them. The three mini-games are Parkour with Huggy, Aquapark, and You vs Herobrine. You will try to pass through dangerous parkour in the first game. In Aquapark, you should slide through a very challenging pool slide, and in the third game, you will be challenged to finish parkour while attacking enemies with arrows. With each successful attempt, you will get an A, and with each failed level, you will get an F. Let's see how high your success rate will be!
If you think you enjoyed playing this game within the main game, you should also check out Monster School Challenges to enjoy the prequel to this game.
Developer
Stickman vs Monster School Team developed Monster School Challenge 2.
Release Date
September 23, 2022
Features
• Pixelated 2D graphics
• 3 different minigames
• Multiple characters to try out the same games with
• Story-like gameplay
Controls
You can use the arrow keys, left click, and the space key to play the mini-games according to the instructions.