Play Now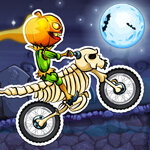 In Moto X3M Spooky Land, get ready to jump on your motorbike and ride through various challenging and dangerous levels. The spooky season is here, and the tracks you'll ride on reflect that. If you're not scared of ghosts or deadly obstacles, then be prepared to show that you're the best biker in the world!
Jump on your bike, and get ready to brave the dangers ahead! Riding on the wide roads is nothing compared to the thrills you're about to face in this game! The main objective of the game is to complete each level by reaching the end without dying. This sounds easier than done, but with the simple controls of the game, you can do it! To start the game, click on the play button on the main menu. You'll be taken to the level selection screen. There are 22 different levels that you can complete. Only the first level is available in the beginning, but you can unlock the rest as you play. In each level, you have to avoid and overcome various traps and obstacles. From bone spikes to deadly falls, you can expect lots of dangers! Do your best to ride through them unharmed and reach the end to pass the level! Good luck!
If you like this game, then be sure to check Moto X3M Pool Party, another popular title in the series. Have fun playing!
Developer
Mad Puffers developed Moto X3M Spooky Land.
Release Date
October 1, 2019
Features
Colorful 2D graphics
22 different levels to complete
Intuitive controls
Entertaining gameplay
3 different bike models that you can use
Controls
You can use the arrow keys to control your character.