Play Now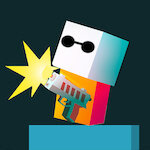 In Mr. Gun, it's time to prove that you're the best shooter! Your enemies are armed and waiting for you around every corner. Grab your guns, wear your shades, and show them that you're unstoppable. Practice your aim and defeat every opponent you encounter to earn levels and become even stronger!
Whether you're carrying a pistol or a powerful shotgun, what matters is how well you aim in this game. Your objective is to advance through the game as far as you can by killing all your enemies without getting killed. You can play the game with your mouse, so click on the screen to start. On each level, you'll have to defeat various enemies and a boss. When you encounter an enemy, your aiming pointer will move. You have to click on the screen when you're aiming at your enemy to fire, or you'll miss. If you miss or didn't kill your enemy after you shoot, it'll be their turn. A single shot is enough to kill you, so try to kill your enemy as fast as you can. Shooting your opponent on their head gives big damage to them. You level up as you pass levels. You can unlock new weapons on higher levels. Aim well, and defeat everyone on your way! Good luck!
Looking for a similar game with guns and enemies? Then be sure to play our other popular title, Agent Gun. Have fun!
Developer
codelab developed Mr Gun.
Release Date
January 21, 2019
Features
Colorful 2D graphics
21 different weapons to unlock and play with
Addictive and challenging gameplay
Cool character
Controls
Use your mouse to play this game.