Play Now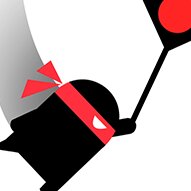 Ninja Man is here to test a ninja's most crucial attribute in you: patience. Ninja suit: check. Rope for years: check. Narrow goal platforms: check. Now that you have all things necessary, you are ready to go and try your luck with the world's trickiest ninja parkour.
Who would have thought that landing on a platform would be this challenging? This game offers the unthinkable: a track you will love to hate. Your goal is to use your rope to swing your tiny ninja friend to the target. Of course, it takes more than one swish. Tap on the screen to throw the first rope and see your ninja swinging back and forth. He gets a little faster with every turn until you release him. Release your finger when you think he is ready for the next pillar and send the rope again. Open your senses and float in the air like a monkey jumping from tree to tree effortlessly. Avoid crashing into platforms; that includes the goal. Keep trying until you get it right, or go easy on yourself and skip the level by watching a short ad. Unlock skins for your character and get annoyed with style!
If you are into ninjas, you can check out Shadow Ninja Revenge and explore a mystical forest looking for your kidnapped son!
Developer
SNSHUB developed Ninja Man.
Release Date
April 12, 2022
Features
Colored 2D graphics
Improving balance and timing skills
Levels of increasing challenge
Available on mobile devices
Controls
You can use your mouse to play this game.