Play Now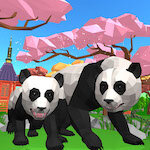 In Panda Simulator, get ready to travel to the cherry blossom-filled lands, and take control of pandas! Apart from looking cute and being funny, these animals are actually pretty smart. Join one in this game, and complete different missions, as you try to raise a family of your own!
Featuring an open world filled with lots of different characters, you can experience what it feels like to be a panda in this game. Your objective is fun and simple. As a panda, you try to earn experience points and enough resources to level up and raise a family. You can do this by completing different quests scattered all around the world. Click on the play button to start the game. Give a name and pick a gender for your character, and you're ready to roam. You can see your stats in the top left corner of the screen. Wander around the land to find quest givers, complete various tasks, and earn gold and experience points. Find a mate and let them join you on your journey. Fight with other animals, and collect enough food to expand your family and improve your stats! Have fun playing!
Explore the land as a big cat in the other popular title in this series, Tiger Simulator. Good luck and enjoy!
Developer
Cyber developed Panda Simulator.
Release Date
February 1, 2019
Features
Colorful 3D graphics
A wide open world to explore
Many different quests that you can complete
Addictive and entertaining gameplay
Controls
You can move around with the WASD or the arrow keys. Click on the screen to attack. Use the SPACE BAR to jump, and the SHIFT key while moving to run.