Play Now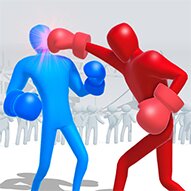 Choose your fighter and enemy, and ready your fists because Ragdoll Duel: Boxing is here to heat things! A silly gigantic head or stone abs: your build is the last thing that determines the outcome of these matches. Invite your friends or family, or fight against the game bot; try both to prove your boxing skills!
You can choose your opponent before getting into the action. 1P option matches you with the game bot while 2P splits the controls on the same keyboard so you and your friend can play next to each other. Take a second to breathe in and hear the crowd cheering for you; they are actually cheering for some violence, but whatever makes you feel better about the fists you will soon take. Move back and forth, duck to dodge attacks, and wait for an opening to bring your enemy down. Both sides have special attacks that deal extra damage, and these attacks renew with time. Watch out for your enemy's special attacks and wait for the right time to use yours. The match ends when the difference between two scores reaches two. Defeat the bot or challenge your enemies to see who is the master of fists!
If you like stickman boxing, you can check out Drunken Spin Punch and bring your own booze to the fight!
Developer
RHM Interactive developed Ragdoll Duel: Boxing.
Release Date
April 14, 2022
Features
Colorful 3D graphics
1P and 2P options
Easy to play
Character skins
Controls
Player 1 can use "A, S, D" to move and "F, G" to fight, while Player 3 can use the arrow keys to move and "K, L" to fight.