Play Now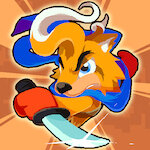 In Rogue Tail, help this fox save his land from cruel invaders! In this world, the adventure never stops and danger always lurks somewhere! And this time, our hero finds himself in the middle of his enemies, ready to battle! Will you be his companion throughout this adventure and save him from danger?
Imagine that your land is invaded by outsiders. What will you do? Hide and cower? Well, that's not what our courageous fox is going to do! He's ready to destroy anything that crosses his path! In this rogue-like game, your objective is to kill monsters that are crawling through the dungeons and make your land a safe place again! In each level you'll face many of your enemies. You can move around and kill them by using WASD keys or arrow keys. Try to make strategic moves to not get killed! You'll also find many spells in the dungeons. They can help you battle evil. And dont forget to collect golds to change the way you look! As you kill your enemies you'll level up and also be able to upgrade your spells. You can increase your melee damage or max health! But be careful! As the game progresses you'll face opponents that are harder to kill! But if there's anyone who can destroy these vicious monsters, it's you! So, get your weapons ready! The battle has begun!
Do you like facing new challenges and defeating your enemies? Then we have a good suggestion for you! Play Heroic Quest now and defeat your enemies to prove you're the real MVP! Click here to play for free!
Features
Colorful 2D graphics
Fun and challenging gameplay
Intuitive controls
Many customization options
Controls
Use WASD keys or arrow keys to move around and attack. Use 1,2,3,4 to use your spells.