Play Now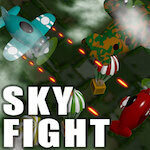 The Sky Fight invites you to the most challenging battle the sky has ever seen! It is time for you to prove how much a good force pilot you are by defeating all the other aircraft in this multiplayer action game. Beat all the forces from various countries, all around the world, and be the master of the skies! If you are ready, get into your fighter aeroplane and begin the fight already!
Welcome to the online multiplayer sky battles in which you need to progress and achieve different medals by beating your enemies. In this fun action game, your objective is to shoot all the planes you come across while increasing your score and rank. Take control of your earoplane and shoot the other players in the game arena. Each player is equipped with basic weapons that can be upgraded by catching the falling parachutes. The first thing to do is choosing a flag and selecting one of the servers to start the game. Then, all you need to do is to shoot the targets and gain new achievements to increase your score and rank. As you progress in the game, new game modes as team-based games, rank-based games, and customized games will open with new titles. You are starting with the standard games and obtain new upgrades to improve your success. If you are ready, let this battle begin!
If you want to try another game similar to this one, then be sure to check Galactic Judge by clicking here.
Developer
Lucky Red Fish developed this game.
Release Date
May 30, 2018
Features
3D colorful graphics
Multiplayer air battle simulation
49 achievements to gain
Various upgrades and game modes
Controls
F1 to "quick help". The "A" key increases the power, and the "D" key decreases. The Alt key fires. The SPACE drop bombs. The "P" Pause. F2 Show/Hide screen.