Play Now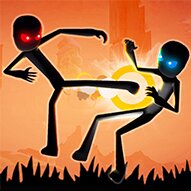 Jump into an arena placed in a color-filled fantastic world with Stick Duel: Shadow Fight! Choose your fighter and opponent, fight against the game or a friend, enjoy the stunning visuals and the changing backgrounds, and discover new attacks at every new step!
You can turn on the music from the main menu to get into the mood before starting. Now choose between single and multiplayer. You can choose multiplayer mode also to discover new combos and try out improved tactics! Jump, duck, and combine your punches and kicks with your position! Moving forward and backward also changes the way you attack. Some attacks, like low kicks, can look unbreakable, but you can find your way around them with counter moves like flying attacks. All players get special attacks that renew with time, and these attacks deal damage, but they can also cancel each other. You can use them to hit your opponent from a distance or wait for them to make the first move and release your superpower to block them. Don't forget the fact that you can always change the way our stickman looks before every fight. Just add some colors once in a while, and don't forget to enjoy the exotic atmosphere!
If you like stickman fights, you can check out Stickman Fighter: Epic Battles and fight against more enemies coming in waves!
Developer
RHM Interactive developed Stick Duel: Shadow Fight.
Release Date
February 24, 2022
Features
Fun 3D character design
Changing backgrounds
Exclusive attack combos to discover
1P and 2P options
Controls
Player one can use "W, A, S, D" to move, "F, G" to attack, and "R" for a super attack, while Player two can use arrow keys to move, "K, L" to attack, and "O" for a super attack.