Play Now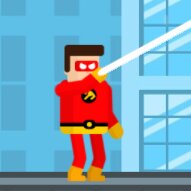 Can you save the city from bad people in Super Hero League Online? You are the superhero here, and no one can ruin peace for this city. As the hero of the city, you came to fight against bad people who are holding your people as hostages. Now get there and save everyone!
You are a superhero with a special power, and you can use this power for the good of your people. When you get to the city, you will see bad people waiting for you with innocent people in their hands. So, use your power in the best way and get people free of the hands of those kidnappers. In this game, you have the chance to be one of the four superheroes who all have different powers respectively. If you choose to be Super Psychic, you can summon your enemies to throw them away or drop stuff on top of them. With Super Sharp, you can send sharp arrows at your enemies. If you become Super Ninja, you can send a bouncing shuriken at your enemies. Finally, with Super Boom, you can send loaded bombs on top of your enemies. Unfortunately, though, for each superhero, you have a limited chance of shots at hand. So, sometimes you will need to kill two birds with one stone. Maybe kill three or four enemies with one shot, to be exact. Try each superhero if you wish and try to complete all the levels for each character!
If you enjoyed playing Super Hero League Online, you might want to check out Snowheroes.io by clicking here.
Developer
kiz10.com developed Super Hero League Online.
Release Date
October 07, 2021
Features
2D colorful graphics
Different superheroes to choose from
Many levels to pass
Intuitive controls
Controls
You can use the mouse of your computer to shoot at enemies.