Play Now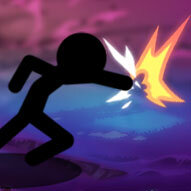 Prepare your fists to fight your enemy in Super Stickman Fight! As a stickman, you may seem so powerless. But when your enemies are of the same kind as you, you have a great chance to win over any match. Now, get yourself ready for a series of matches and be the champion!
As a stickman, you may be moving a little way too dreamily. But, in fact, this can even be an advantage when your enemies are as light-headed as you. In this game, you will get down to a series of arenas with your rivals. Unlike classic kinds of box matches, you won't be trying to hit your rival only with your fists, or you won't try to defend yourself with only your fists, either. As light-headed as you are, you can move freely with your whole body. This means you will have to jump around while hitting your rival with your whole body. You can use your cursor to rotate your character. While doing this, what you need to aim for is to both defend yourself and attack the rival. The faster and stronger you hit your rival; the more points will be deducted from their power unit. But keep in mind that there will be additional challenges at some levels like blades etc. So, try to defend yourself, stay away from the hazardous obstacles and attack your rival to pass all the levels!
If you enjoyed playing Super Stickman Fight, you should check out Stickman Team Force by clicking here.
Developer
kiz10.com developed Super Stickman Fight.
Release Date
August 13, 2021
Features
2D colorful graphics
Multiple levels
Intuitive controls
Fighting stickmen!
Controls
You can use the mouse to control the player.