Play Now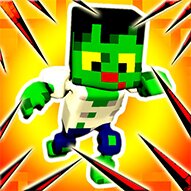 Make a wish and sign a deal to make it come true with Trap Craft! Your TV broadcast is controlled by hackers and they have an offer for you: protect the portals and you can have whatever you wish! An appealing deal, but keeping zombie waves away with that juicy brain of yours will not be that easy!
Six close friends were watching TV on an extremely usual night when it all started. A hacker stopped the broadcast to make an interesting offer: he said he would grant them wishes, whatever they want, if they protect the portals from brain-eaters. Our heroes jumped to the deal without giving a thought, so now they need some help from you. You can choose one of these six characters and unlock your surprise ending with the story. Read their wishes, choose one, and let's get to the action! You have some gold, and there are traps you can buy with that gold. Choose your weapon options before starting the level, plant traps wisely, and start accepting wave attacks! You can take a position and shoot arrows at them or jump right into the action and use a sword! Pass levels to complete the mutagen and get your unique ending!
If you like the stories of Noob and Pro, you can check out Noob vs Pro Challenge and get out of mazes and buildings without getting eaten!
Developer
mango_x2 developed Trap Craft.
Release Date
May 3, 2022
Features
Colorful 3D graphics
Pixel theme
Improving weapon options
Addictive gameplay
Available on mobile devices
Controls
You can use the arrow keys and mouse to play this game.