Play Now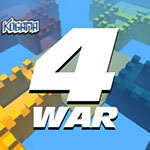 In Kogama: War 4, join your teammates and try your best to defeat your enemies in a heated battle! This game's world is not big enough for 4 teams, so you should be the one to claim it. Do you have what it takes to carry your team to victory and kill all your enemies to earn the most points?
Your objective in this highly competitive and fun game is to kill as many enemy players as you can to earn points. Start the game by clicking on the play button on the main menu. You'll be placed in one of the 4 groups. When you spawn on the map, you should grab a weapon with the E key. Your enemies have a red pointer above their heads while the color of the pointer is green for your teammates. Your starting area is your base, and you can see many different weapons and health packs. Go and attack the enemy players, dodge their attacks, and aid your teammates. You can try to hunt as solo, but with the help of your crew, you have a higher chance of survival and success. If you don't like your weapon, you can go back to the base and pick another one. When you die, you can buy different upgrades with coins, such as extra health or ammo! Good luck and have fun!
If you want to try a similar game, then be sure to check Kogama: Reach The Flag by clicking here. Enjoy!
Developer
Kogama developed Kogama: War 4.
Release Date
November 6, 2017
Features
Colorful 3D graphics
Online multiplayer gameplay
4 different teams to join
Intuitive controls
Various weapons to use
Controls
Move around with the WASD keys. Aim and shoot with your mouse.