Play Now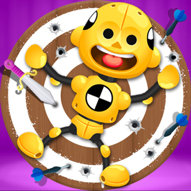 In Whack the Dummy, meet our strong and helpful dummy! There are so many things to test, and this cute little character agreed to help us! Despite all the sharp and piercing objects, you can't really hurt him, and we believe he enjoys the action! Can you unlock all the weapons and complete the missions?
No amount of strikes could damage this dummy, so don't be shy to explore our collection of various weapons! The objective of this game is to complete each level by filling the bar above. You can play the game with your mouse so, let's get started! In the beginning, you don't have many available options. But as you pass levels and earn chests, you can expand your weapon rack! Chests include exclusive items in them, and with the coin you earn, you can purchase different weapons from the in-game shop. There are also various missions to complete! Sometimes, the dummy will drop a random piece of a costume. Collect all of these pieces to unlock a fun costume! Have fun!
Let's give our dummy a break! Why don't you try another game in the meanwhile? Go and play our popular title Mr. Bouncemasters 2 and introduce yourself to other fun characters! Enjoy!
Developer
Silly Spider developed Whack the Dummy.
Features
Colorful and fun graphics
Multiple different weapons to use
Intuitive controls
Different hats to unlock and customize your character with
Entertaining and addictive gameplay
Various missions to complete
Controls
You can use your mouse to play this game.