Play Now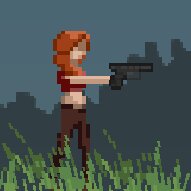 Survive the zombie apocalypse alone with Zombie Mod! Stand alone against the brain-eating monsters, use objects and strategy skills to protect yourself, and hope for the level to end before they find you! Roam the level arena to find weapons and ammo, block doors and paths, and shoot the undead to make it through another day!
Use every object in the arena for your survival! Use cabinets and chairs to block doors, pick up wooden logs and shut ways, and hold your breath while zombies break everything on their way to get to you! There's no hiding; they can smell you across the field! You must fight back to get access to the next level. Keep an eye on the ammo at all costs; running out of bullets can mean instant death. Keep searching for new weapons and ammo even if you think you have enough. Also, you must know when to stop. There's no need to keep roaming when you have the key to the next level. Open the door and leave the monsters behind while more wait for you in the next room. Complete all five levels and wait for the sixth; the new stage is coming soon!
If you like this deadly action game, you can check out The Great Zombie Warzone and improve your strategy skills to survive the next wave!
Developer
Stickman vs Monster School Team developed Zombie Mod.
Release Date
August 11, 2022
Features
Nice 2D graphics
Pixel art theme
Creepy atmosphere
5 levels of addictive gameplay
Available on mobile
Controls
Use "W, A, S, D" to move, "E" to shoot, the spacebar to pick up objects, and the mouse to choose and use them.