Play Now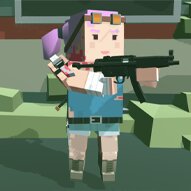 It's time to test your survival skills against the zombie apocalypse with Zombies Survival! Grab a heavy gun, take your place on a challenging map, and wait for the hell to break loose! Accept your lone role against an army of undead and try to protect your side as humanity in the last war on earth!
The safe and social days of the block world are far past. Now the undead rule and they are not as civilized as the last rulers of the world. So, it's time to step up and take our rights as humans back. We must fight against these brain-eaters to make the world a safe place for our children once more. The only problem is that they are much more crowded in numbers. Do not worry though, we have guns. You can start with the defaults and buy new guns later when you start earning some cash. There are also options for secondary, melee, and special weapons, as well as grenades. You can save money to collect your dream gear, choose your favorite character skin, and go out to hunt some monsters! Keep your distance from zombies, shoot them, and keep your health high against waves of enemy attacks! Have fun!
If you like zombie-themed action games, you can check out Toys Shooter You vs Zombies and keep your character alive in another block world!
Developer
Vitalitygames.com developed Zombies Survival.
Release Date
July 6, 2022
Features
Colorful 3D graphics
Challenging levels
Gun types and options
Optional additional weapons
Character skin options
Controls
Use "W, A, S, D" to move, the right click to focus, left click to shoot, "R" to reload, and "L" to lock the cursor.